5 unusual ways to style your plain black tights
Posted by SOCKSHOP
The days are getting colder and with dresses and bare legs firmly off the table, it's time to get the tights out. Plain black tights are a wardrobe staple come autumn, but they can become boring to style. Here, we've got five unusual ways to style your tights this winter...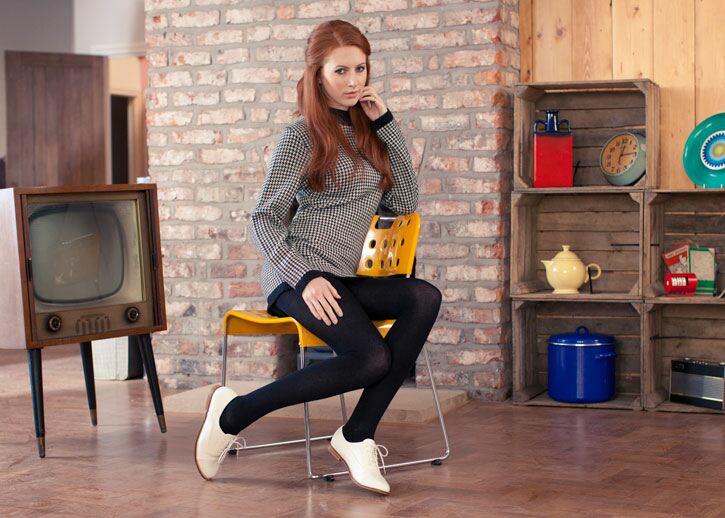 Pair them with knee-high socks
One for the chillier days. One of the cosiest ways to style your black tights is by pairing them with knee-high socks. Worn with skirts or dresses under long boots or even ankle boots, it's the chicest way to get warmer legs fast. Add a splash of colour with cosy deep-red socks, or pair with a knitted cream pair for a classic look.

Toughen up with military pieces
Black tights can look boring with your usual leather boots and cotton skirt, so play around with military style to lift your look. This season, military jackets and stomp-worthy biker boots are back on the catwalk, while high street shops are stocking up on khaki colours, too. Add a bit of femininity to your outfit by pairing a military-style jacket and boots with a miniskirt and tights.

Try white trainers
If your white trainers have become an integral part of your look and you can't bear to part with them this winter, don't worry - you can wear them with tights, too. White trainers work best with thicker, woolly tights and longer silhouettes, so replace your short skirts with midi styles and long dresses. To balance out the colour and stop your shoes popping too much, style with a calf-length light-coloured coat - think camel or grey.

Style them with sandals
Tights worn with strappy heels was big on the catwalk this season, and it's a look you can easily translate to your wardrobe. Delicate, thin-strap sandals look odd when paired with thick tights so, to avoid looking too mismatched, wear your tights with heavier styles like platforms.

Avoid all-black
It's tempting to ditch your summer colours for an all-black wardrobe when you're wearing tights, but there are ways to style them with colourful clothes that makes an outfit extra chic. For those who like experimenting, pair matching colourful separates - like a millennial pink skirt and jacket - with black tights and boots. The black will balance out the outfit and stop it looking too summery - a great way to translate your favourite pieces from earlier in the year to your new-season wardrobe.