5 things to include in every kid's Christmas stocking
Posted by SOCKSHOP
From the sweet, earthy smell of pine needles to the salty wonder of pigs in blankets, Christmas is full of evocative sights, smells and sounds that take us all straight back to our childhood and the magic that permeates the season. But is there a better memory than that tale-tale rustling at the end of your bed first thing on Christmas morning, as your heart leapt for joy when you realised that Santa had paid you a visit? Each generation goes out of their way to pass on that feeling of wonder and create that same look of starry-eyed awe – and 2021 need be no different. We've come up with 5 Christmas stocking gifts to make this year one to remember.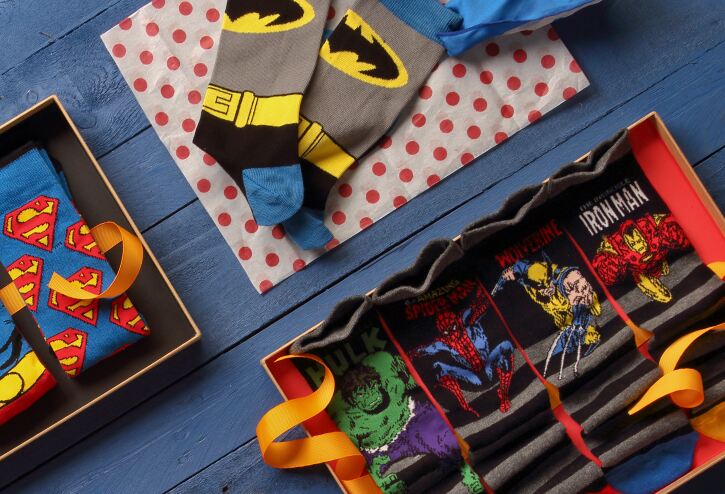 Chocolate sprouts
If you go into battle each year to get your family to partake in the little green Brassicas that divide the nation, then why not make light of it this Christmas and let them have their veg in the form of a chocolate sprout? These handmade white Belgian chocolate sprouts are incredibly lifelike but exceedingly tasty.
World's smallest voice changer
This miniature megaphone will be a hit with big and little kids alike. Simply place it to your lips and speak into it to either distort or amplify your voice – and with four different settings it will provide hours of fun! The first rule of Christmas stocking gifts is that there should be something in there to wake up the rest of the family on Christmas morning, right?
Disney Princess smencils
Yes, that's right, scents + pencils = smencils! If you have a family member who loves Disney princesses and who likes to draw or write, this Christmas stocking gift will be right up their street! With five different scents to choose from, it might make homework time just a little more fun.
Fingerlings sloth
If you haven't yet met the Fingerlings range, you're going to love these – and this sloth is adorable! With blinking eyes, a rotating head and cute little sloth sounds, this fella likes to hold onto fingers and responds to sounds, touch and movement. Interactive toys don't get much better than this, and it's a snip at just £8.99, perfect as a Christmas stocking gift.
Super cool socks
Remember when socks had a reputation for being the gift you gave to the uncle who had everything? Well, things have come a long way since then. From Marvel characters to Toy Story and DC Comics, there are socks out there that will make every child scramble to get dressed in the morning! If you're looking for a Christmas theme or something to snuggle down in during the festive season, check out Sockshop's kids' range of slipper socks where there is everything from 3D reindeer to The Incredible Hulk and Disney slipper socks. If you want something cuter still for a tot in your life, take a look at our fluffy Monster totes or Hedgehog slippers – our gift sets for kids will have you and your little ones purring in delight.

If you're still on the hunt for Christmas stocking gifts for the young or simply the young at heart, don't forget to factor in socks – whether you opt for cute, funny or cosy, it's a gift that will last well beyond the festive season and – assuming we can still see our toes after all that Christmas pudding – will delight us every time they look down!