Friendship Friday with Elmer the Patchwork Elephant
Posted by SOCKSHOP
We're teaming up with Elmer the Patchwork Elephant again to raise money and awareness for anti-bullying charity Kidscape's Friendship Friday on 19th November 2021!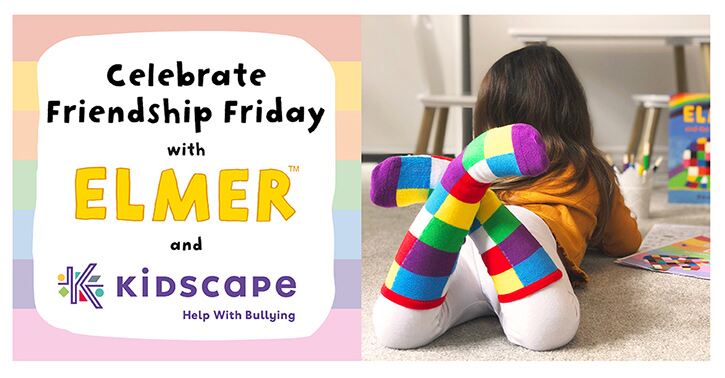 Friendship Friday coincides with Anti-Bullying Week, an annual UK event coordinated by the Anti-Bullying Alliance which aims to raise awareness of the bullying of children and young people, in schools and elsewhere, and to highlight ways of preventing it.

80% of schools in the UK take part, with a potential reach of 7.5 million children and young people, and Kidscape have lots of great resources to help you and your little ones, your school class or anybody get involved and take a stance against bullying.

One child in every classroom is experiencing bullying every day. Kidscape provide support in a number of ways, from advice for parents and carers and tips for dealing with bullying, to an advice line which gives support to parents and carers of bullied children and young people.

The Elmer books by David McKee are a wonderful way to introduce stories of friendship, kindness and respect to young children and the resources in the Kidscape Kindness Pack are perfect to celebrate #FriendshipFriday.

You can also wear your Elmer bamboo socks with pride! 10% from each pair sold goes to Kidscape to help fund their amazing anti-bullying work.

SOCKSHOP is proud to be teaming up with Kidscape for the 3rd year, having donated over £1400 to Kidscape through the sale of our Elmer Bamboo Socks since 2019. SOCKSHOP and Kidscape would like to thank you for your ongoing support and donations which help deliver vital support to children and families who are experienceing bullying.

Get involved on social media using #FriendshipFriday @Elmerthepatchworkelephant
@Kidscape_charity @SOCKSHOPUK @AndersenPress !