How to wear thigh-high socks this winter
Posted by SOCKSHOP
Long socks have been in fashion since the 70s, when knee highs were ultra chic when paired with a short skirt – and they have remained in circulation ever since, making regular appearances on catwalks and on celebs. Thigh-high socks, however, have had a lower-key existence – unfairly in our book. After all, they're warm, ultra chic, they can be dressed up or down, and they are a great alternative to tights for those who dislike them. Find out how to wear thigh high socks below:
With long boots
Long socks look great with a couple of inches poking out over the top of boots – whether you opt for chunky biker boots, riding boots or heels, grab yourself a pair of thigh high socks in either the same colour as your boots or in a contrast tone to give a pop of colour, and pair with shorts or a skirt for a casual look.
With shorts
If you think cooler temperatures means you have to switch to long trousers and skirts, think again. There is nothing cooler (and warmer!) than a pair of ripped denim shorts or a summery floral dress paired with thigh high socks. Wear with trainers, pumps or calf-length boots for an autumnal trip to a museum or walk through the trees.
Over tights
When thinking about how to wear thigh high socks, you don't necessarily have to use them an alternative to tights – on the contrary, you can wear them as an addition. Layering is a great look, and wearing thick cable knit socks over some sheer tights of the same colour, perhaps with a pair of boots, can look fabulous.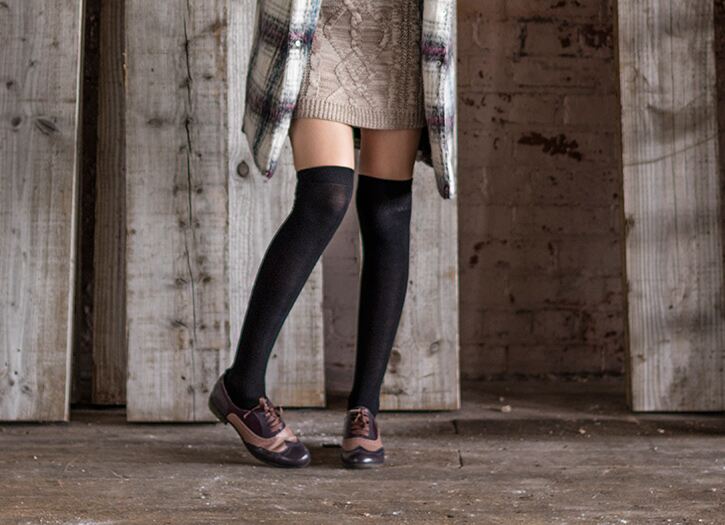 For warmth
When we get to that time of year when the icy wind cuts through our jeans, then there is no better antidote than pulling out a pair of your thigh high socks and wearing them under your trousers. No one will be any the wiser and you will be snug as a bug on cold winter days.

If you've been thinking about how to wear thigh high socks, this is the perfect time to dive right in! Why not take a look at our range of ladies' over the knee socks where you will find bamboo socks, Fairisle merino wool or open toe leg warmers – there really is a thigh length sock for everyone, so find yours today at SOCKSHOP.