The best Advent calendars for grown ups
Posted by SOCKSHOP
Christmas is a wonderful time of year for kids. However, it can also be a pretty great time of year for adults, if we choose to embrace the season and have a little fun along with it. Advent calendars come in all shapes and sizes – and we've come a long way from the cardboard calendars of the eighties with just a little picture behind each window; it seems that there's a calendar to suit every taste and interest nowadays. We take a look at some of the best and funkiest advent calendars for grown ups, to find out what will bring out the big kid in you.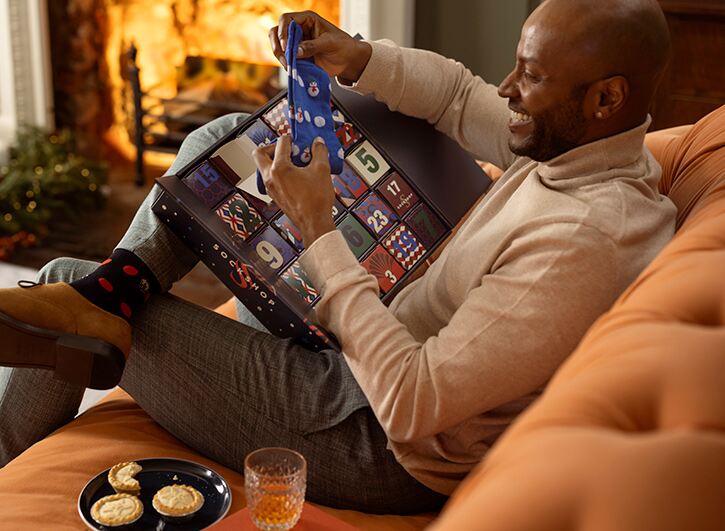 For whisky lovers
If you like a wee dram of an evening, there is no better time of year to snuggle down by an open fire and sample a new whisky. And that's exactly what this Whisky Explorer Advent calendar is designed to do, with 24 different wax-sealed drams from 20 different distilleries across 5 countries.
For tea connoisseurs
If your preferred drink is of a more leafy variety, then you will love this Advent calendar from Pukka, with a different tea bag flavour for each day leading up to Christmas. With varieties ranging from ginseng matcha green to three fennel and blackcurrant beauty, it's a great chance to find some new flavours for that tea caddy!
A pampered Christmas for her
With the festive season often labelled as a time for excess and little in the way of self-care, this beauty-based Advent calendar for grown ups from Cath Kidson is a chance to indulge in some real pampering. With 24 little beauty treats ranging from bath fizzers to body lotions and lip balms, you will arrive at Christmas feeling renewed and ready to take on the world.
A pampered Christmas for him
Not wishing to leave the guys out, Bayliss and Harding have put together a wonderfully fragrant Advent calendar for the man in your life – with treats like aftershave balm, face wash, muscle soak crystals and bath soak. By the time Christmas comes around he will feel and smell sensational.
Festive socks for the season
A Christmas stocking is synonymous with the season, and what better way to lead up to the big day than with a fun pair of socks for each day? With no less than 25 pairs of socks ranging from decorative holly, robins and snow globes, through to fun patterns and bright shades for all year round use, this is a great gift that will last well beyond the Christmas period but will bring a great big smile each morning. With each sock made from the softest bamboo, this is the perfect Advent calendar for grown ups.
For the Star Wars fan
Advent calendars for grown ups can include those big kids among us, and what better way to bring some nostalgia to the season than with the characters we all grew up with? This Star Wars Lego advent calendar is inspired by The Mandalorian and includes figures such as Baby Yoda, a Scout Trouper, a Storm Trouper and the Mandalorian himself.
The Bond fan
This limited edition James Bond Advent calendar for grown ups is not for the faint hearted! At a cool £199 it features 12 days of Christmas including a golden bullet replica from The Man With The Golden Gun, an actual cash chip prop from Casino Royale and a silk pocket square based on Maurice Binder's design in Dr. No.

Advent calendars for grown ups are much more than a daily chocolate intake; they can be sophisticated, fun, pampering or indulgent. Whichever one you choose for yourself or your loved one, though, one thing is for sure: it will be the gift that keeps on giving. Go on and order one now, so that you have a whole month of treats to look forward to before we even reach the big day.