It's a tough job...
Posted by Katrina
Last week a merry band of SOCKSHOP workers, including myself, headed off to the Lowry Hotel in Manchester to shoot a very exciting advertising campaign which we've got planned for this winter. We decided to use one of the hotel's suites as the backdrop for the shoot, as it was modern and spacious, but also quite grey and muted – and perfectly reflected the atmosphere we wanted to create.
As glamorous and comfy as shooting in a hotel is, one thing that did catch us out last minute was the period of time which the room was available for – afternoon to morning! After we realised, we decided to split the shoot, and capture the ladies images in the afternoon and the men's the following morning. Unfortunately for our lovely male model Gaz, this involved a 6am call-time!
It was great fun shooting in the hotel, and seeing our concept come to life and show off the socks so well. I can't tell you exactly what the shoot was for, but I can show you a few behind-the-scenes snaps, enjoy!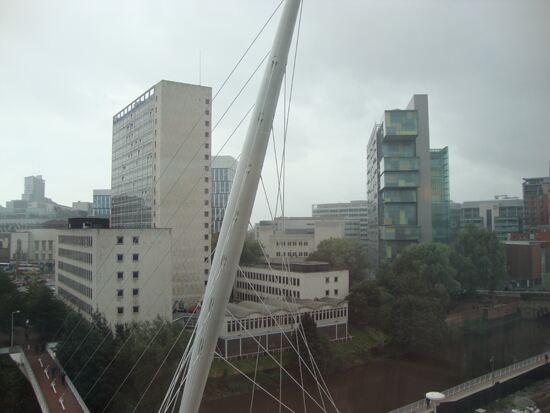 The view from our suite at the Lowry Hotel.
The lovely model Isabelle striking a pose for our photographer, Rick.
Isabelle relaxing while the next shot is set up.
Spot the difference? Comparing two shots of Gaz to see which we prefer.
One of the shots which hasn't been chosen to feature in the campaign, but shows some lovely leg shapes from Isabelle.