How to wear tights with dresses and boots
Posted by SOCKSHOP
We don't know about you but for us at SOCKSHOP summer seemed to go even quicker than usual this year. It is soon approaching that time to swap our maxi dresses and sandals for knitwear and tights ready for the colder months. While you may feel sad to say goodbye to summer, autumn brings with it a whole new range of outfits that you can wear.

One of the best outfit combinations for the colder seasons of the year are dresses, tights, and boots. However, if you are anything like us, it can sometimes be difficult to know how to best style your autumn/winter looks. So, if you are sitting there wondering how to wear tights with dresses and boots, then you have come to the right place.

Here at SOCKSHOP we can provide you with all the tips and tricks you need to know to up your tights game for AW2021.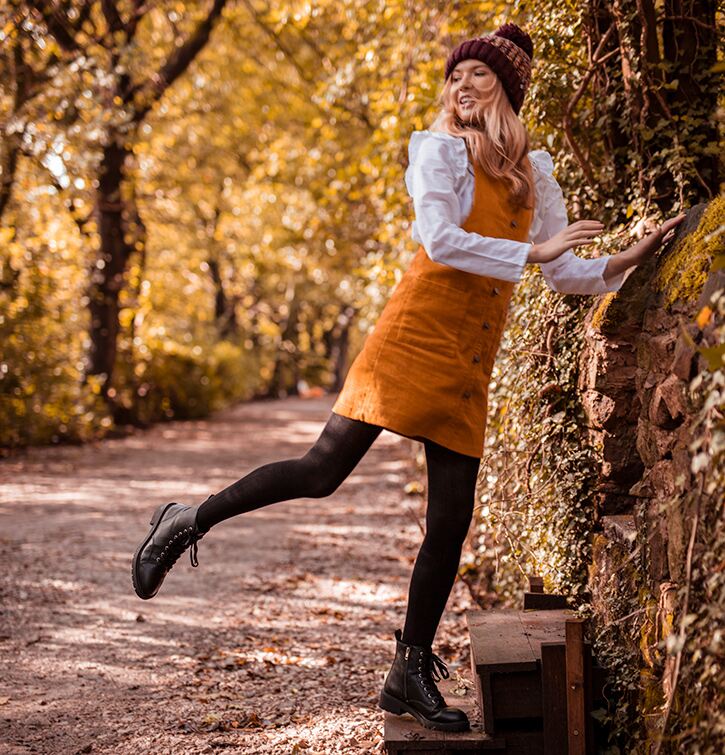 How to wear tights with dresses and boots
Find the right tights for you
If you have tried and failed to pull off the tight, dress, and boots combination in the past, then it was likely because you didn't have the right type of tights on. You can be searching for the perfect pair of tights forever if you don't know what you are looking for, and poor fitting and uncomfortable tights can make you want to give up on wearing them altogether.

The right tights for you will depend on your body shape, size, and also your skin tone. Many people don't realise that there is a universal type of tights that will suit everyone, and this is skin coloured tights. These will automatically go with every outfit that you wear, and also leave your legs with a flawless and silky finish.

Lucky for you, the search for those evasive perfect tights is made a whole lot simpler due to SOCKSHOP's vast range of sheer tights that you can pair with any dress or boots and still look great.
Matching colours looks great
The dress, boots, and tights combination is a classic winter staple, and can be worn repeatedly in different ways throughout the season- which is why it is one of our favourite AW looks. Not only is it functional by keeping you warm, but it is also super comfortable, and looks stylish. But if you are still struggling to know how to wear tights with dresses and boots then we would recommend that you start by matching your boots and dress together.

While sometimes it is nice to add a bit of contrast and colour to your outfit, if you are looking for a smart but stylish office look, a black dress and black boots is our go-to combination. This then means that you can go in with a grey pair of tights to break up what would otherwise be an all black outfit.
Don't be scared to add some colour
Once you have become more accustomed to how to wear tights with dresses and boots you can start to experiment and try introducing some of our coloured and patterned tights. Tights are not what they used to be, and long gone are the days of only being able to choose from sheer to opaque. Instead now you can get any style you can think of, from fishnets to opaque tights.
Pair opaque tights with combat boots
You can even create the perfect outfit around the type of tights that you want to wear. For example, for a stylish autumn/winter look, you can pair opaque tights with a knee length dress and combat boots. This provides you with everything you need for a winter outfit as it keeps you warm, looks great, and protects you during the colder weather.
SOCKSHOP's range of women's tights
Here at SOCKSHOP we are all about offering you with the best range of high-quality tights to suit your favourite dress. So whether you are looking for a thick pair of opaque tights to keep you warm during winter, or sheer tights to wear in the office, SOCKSHOP has it all.