Only the originals will do!
With a soft, cute tufted foldover cuff, this pair of extra long ladies Heat Holders thermal socks will add an element of style to Wellingtons - or any long boot!
The warmly insulated knee high length monopolises on the extreme warmth that only Heat Holders can provide. With an extra long, intensively brushed pile for heat retention and softness, chunky Heat Holders are called 'the ultimate thermal sock' with good reason.
Heat Holders are the only thermal socks proven to keep you warm, with a 2.34 tog rating. By holding more warm air close to the skin than conventional socks, Heat Holders keep legs warmer for longer.
Copied by many. Equalled by none.
(11/11)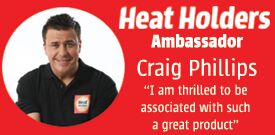 Heat Holders, only the originals will do.