PRODUCT INFORMATION
All Grip No Slip. That is the mission statement of these fantastic MacWet short climatec sports gloves. Whatever the weather, wear these Macwet gloves while horse riding, playing golf, enjoying watersports, shooting, fishing, cycling and even paragliding for 100% great grip. The ideal sporting glove for any activity where a good grip enhances performance.

The synthetic fibres used in the gloves have natural wicking properties which allow water to be readily transported along, around and over the gloves surfaces to the fabric face. This means it evaporates quickly providing you with the ultimate comfortable and gripping power! Unlike perspiration inducing leather gloves which compromise comfort and grip the fabric used in these gloves allows the hand to breathe as it should ensuring consistently comfortable grip. Want to enhance your performance further? Add a little moisture to the glove by gripping a damp towel to ensure maximum grip whatever your sport.

Climatec is a unique material that offers insulation and protection for ultimate performance. This gives a lovely soft fleecy feeling inside the glove for extra comfort. Washable by hand or machine up to 40 degrees, this maintains maximum glove performance. The short glove comes up to the wrist bone and fastens along the back of the hand with easy to use, durable Velcro.
(09/12)

What size should I buy?

To ensure your glove fits like a second skin you need to get the right size for you. Take a tape measure and measuring in centimetres place the tape measure across the fleshy bit of skin just under your four fingers to give you your size. 7cm is considered a medium women's size and translates to a size 7 whilst a size 8 is considered to be a man's size medium.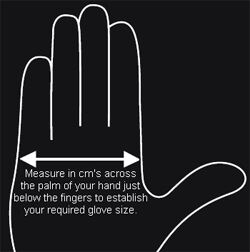 Whatever your sport you don't have to compromise on comfort or grip ever again with these MacWet gloves!
FABRIC:
50% Polyester 32% Polyamide 16% Polyurethane 2% Elastane
NUMBER IN PACK:
1 Pair Pack
Features
Lightweight Sports Glove
Elasticated Cuff with Velcro Fastening on Back of hand, Glove rests on Wrist
Lightweight Sports Glove
Soft, Slightly Shiny Finish