The very best matching socks for couples
Posted by SOCKSHOP
Here at SOCKSHOP, we love perfect pairs, and what better way to show your devotion to the special someone in your life than with the perfect matching socks? Sure, you could opt for matching t-shirts or jumpers, but how often will you really wear them? Socks, however, are a subtle but creative way to share the love.
Maybe you want matching socks to show off the interests you share with your partner, be it TV, films, or music? Or, perhaps you're looking for a cute and cosy token of affection? Either way, you go together like socks and sandals (it's cool, okay?), so keep reading for our guide to the best matching socks for couples.
We've even included a few of our favourites…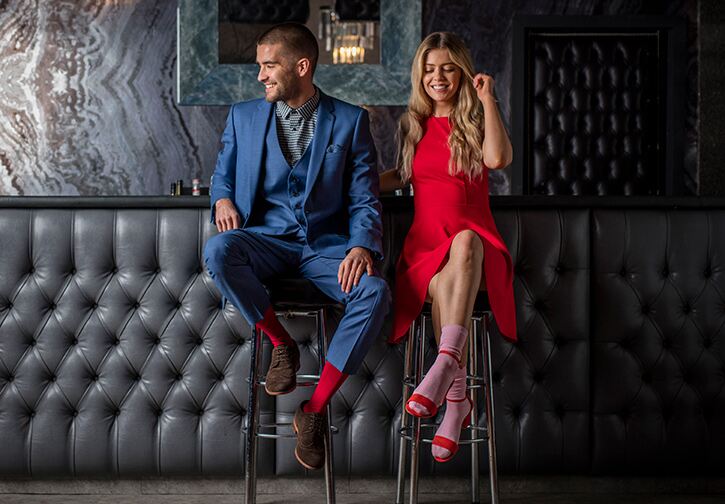 A match made in heaven
Whether you're looking for a cute way to keep it matchy with your significant other, or you're shopping for the perfect couple's gift for friends or relatives, matching socks might just be the perfect choice. First of all, you simply can't go wrong with giving a good pair of socks, and buying two matching pairs makes the gift all the more personalised.
At SOCKSHOP, we've got a range of socks featuring just about everything you can think of. We've got hobbies, animals, your favourite bands or fandoms, and more! With so much choice, you're bound to find the right pair to melt their heart and make them smile.
Whilst you're shopping, keep in mind that many of our socks are categorised by gender on our website because that's what most shoppers are used to. But with socks, matching or otherwise, there are no rules! We have a range of sizes across our website, and you can use our handy size guide to help. Our motto is - if the sock fits, wear it!
Keeping it cute and cosy
If you and your partner's favourite activity is cuddling up on the couch with a movie, matching slipper socks are an absolute winner. There's just something about a good pair of fluffy socks that never fails to spark joy, and what's better than being cosy together?
Picture the scene: it's a Friday night and the popcorn is at the ready, you've finally agreed on what to watch, and you can't imagine how the evening could be any better until your partner gets down on one knee and presents you with…a pair of swoon-worthy bamboo slipper socks with extra-soft feel and non-slip grip soles. If you didn't already know it, you're certain now that they're a keeper.
We also have a whole collection of Heat Holders slipper socks, which come in plain, patterned, and novelty designs featuring your favourite movie characters. So, whatever you and your partner are into, you're bound to find a pair you'll both want to wear.
Did you know that barn owls mate for life? For a pair of socks with an extra sentimental message, why not go matching with a couple of pairs of our super cute bamboo owl socks to really tug at their heartstrings? If you both love furry friends, you'll find plenty of socks for animal lovers on our site too.
For another meaningful gift option, you might want to take a look at our Pride collection. At SOCKSHOP, we firmly believe that love is love, so wear those rainbow socks loud and proud. -We even donate a portion of the profits from some of our socks to the LGBT Foundation, so you can don your matching socks in support of a cause that's close to your hearts.
Game, set, match!
Perhaps you're a couple who like to stay active together, or love nothing more than an outdoorsy day of hiking. In that case, matching socks can be a cute and functional gift. There are many specialised socks suited to the requirements of different sports, and buying a pair for each of you is not only practical, it also acts as an invitation to spend more time together doing your favourite activity or playing your favourite sport.
At SOCKSHOP we have a whole host of socks perfectly suited to a range of different sports, including:
This is another super-thoughtful and personalised gift idea. So, check out our range of specialised sports socks, add two to your basket, and cycle off into the sunset in your matching socks!
Fan favourites for your feet
Matching socks featuring your favourite things are a fun way to show off your common interests and feel closer to your loved one. There are so many kinds of novelty socks to choose from, so let us break it down for you.
Movie socks
Whether you crazy kids are seriously into sci-fi, or you've got a shared taste for the macabre, socks featuring your all-time favourite film characters are always a good shout. If the force is strong between you, we've got a fantastic range of Star Wars socks for you to pair up with. Or, if you're all about the action, then check out our range of official Marvel socks instead.
Maybe you're in search of the perfect matching socks for you and the Superman or Wonder Woman in your life? In which case, look no further than our collection of
superhero cape socks
. That's right - socks with capes. However, if you've got more of a fairytale love story going on, keep the magic alive with our collection of
Disney socks
and grab a pair for you and your true love.
Music fan socks
Sometimes the best romances begin through a shared love of the same band or artist. You've perfected your music taste and pride yourself on being better than everyone. So when someone comes along who likes the same tunes as you…it's nothing short of real love. Why not honour the soundtrack to your relationship with matching socks featuring your favourite music icons?
Our collection of socks for music fans includes all the classics, including our very own heavy metal collection if you're a pair of hard rockers. Or, we have exclusive collaborations between Happy Socks and The Beatles, Queen, and the Rolling Stones if you're real rock and roll sweethearts.
Socks for our beloved gaming geeks
Perhaps you and your significant other love to pass the time with a competitive couple's video game, or maybe you both just love all things retro? Whether you're hardcore gamers or you stick to the occasional game of Mario Kart, level up in love and life with matching couple's socks featuring your favourite game characters.
We've got options including Sonic the Hedgehog socks, retro gaming socks for men and women. Your mission, should you choose to accept it, is to find the perfect pair for you and your ultimate teammate to match with.
Those who sock together, stay together
We hope we've sparked inspiration with our ideas for choosing the best matching socks for couples. The possibilities don't end there, though. Use your imagination and browse our full range. We're sure you'll find the perfect pair to match with the one you love. Happy shopping and remember, there are no cold feet at SOCKSHOP!