Happy Socks have been taking the world by storm with a gorgeous range of eye-catching socks. Happy Socks believe you should be able to wear whatever socks you like, so all of their socks are unisex. Choose from a huge variety of comfy cotton socks in fun designs, bright colours and a range of sizes, and treat your feet to some Happy Socks!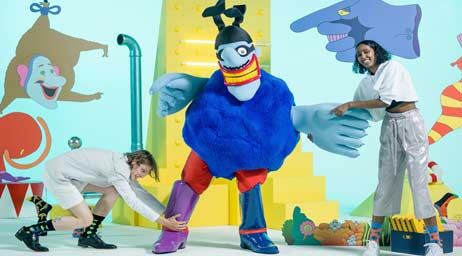 Happy socks started in the spring of 2008. Two friends had a vision: to spread happiness by turning an everyday essential into a colorful design piece with a rigid standard of ultimate quality, craftsmanship and creativity. A concept now brought to perfection by the happy socks collective of creators.
Today happy socks are sold in more than 70 countries and on every continent.
Happy socks features an almost endless variety of models and designs, using a broad spectrum of color combinations and original patterns
Simply put: there's a pair of high-quality socks and underwear for every occasion, mindset and style.

Viktor Tell - Creative Director of Happy Socks, worked as a graphic designer and illustrator for several years before stumbling upon fashion through sales, into playful and colourful patterns and designs, he is inspired by everyday "everything and nothing" when designing the Happy Socks collections. His motto: "All play, now work" shows a great deal of what the label is all about: turning a simple and forgotten product into a fun and sought-after creative success story.

Mikael Söderlindh - CEO of Happy Socks, was working in the advertising industry for 10 years when him and long-time friend Viktor Tell decided to start the Happy Socks adventure. After a decade in service, he wanted to focus on developing a product on a more global market and build a brand from A to Z: all driven by a clear strategy and an enormous business go go through sales and numbers. Integrating the corporte structure with a personal touch and allowing creativity to evolve and grow without interference is the best way to describe how Mikael runs business.