In 1969 Jeff Banks launched his own fashion label. Check out the Jeff Banks range of socks and underwear reflecting the legendary British fashion designer's love for contemporary style, and bring some designer expertise to your sock drawer with this fabulous collection below.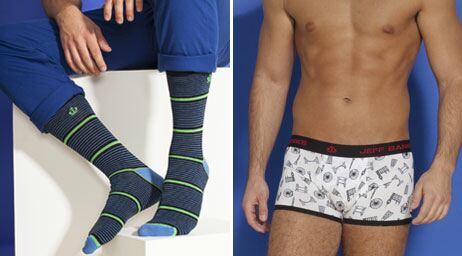 Jeff Banks has been at the forefront of the British fashion throughout five decades, and has won numerous awards and citations around the world. His career can truly claim that he has changed the course of fashion as we know it today.

Jeff Banks launched his own fashion label in 1969 after previous success with boutique Clobber. In 1975 the first standalone Jeff Banks store was opened in London, along with retail outlets in 22 department stores including Harrods and Harvey Nichols.

In 1979 and 1981, he became British Designer of the Year, and in 1980 was also made British Coat Designer of the Year, as well as presenting over 320 episodes of BBC's The Clothes Show.

Having been asked to create corporate design wear for many organisations, Jeff Banks created his own corporate clothing company in 1996, designing clothing for the likes of Barclays Bank plc, Butlins Red Coats, Thompson Holidays, local authorities, dineer ladies, Boots the chemist and many more.

Banks has continued to work as a designer, working with the Guide Association, the England Football Team and recently for London's 2012 Olympics bid.