PRODUCT INFORMATION
43% Viscose derived from Bamboo 40% Combed Cotton 12% Polyester 3% Polyamide 2% Elastane
3 Pair Pack
Smooth toe seams
Non-binding tops
Skin-friendly bamboo with organic cotton; Easy stretch; Extra wide leg; Cushion foot; Silky touch; Machine washable at 40°
Approved by the College of Podiatry - this product loves your feet.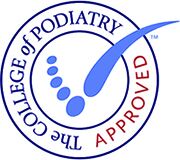 Softer than ever, in an extra-gentle, silky and skin-friendly bamboo fibre and organic cotton blend, our triple pack, unisex fit SOCKSHOP Iomi Footnurse Bamboo Cushioned Foot Diabetic Socks have been developed to assist wearers in managing some of the symptoms of diabetes, specifically those around poor or limited blood circulation.
The easy stretch knit and extra-wide legs are woven to be non-binding, holding to the contours of every leg shape without the pressure or constriction that can impede circulation for diabetics. Smooth toe seams and cushioned feet prevent pressure or rubbing, stopping blisters and other skin damage. The breathability and absorbency of bamboo and cotton, enhanced by the foot cushioning, helps control moisture, also reducing the risk of bacteria and fungal infection.