Fun, flirty and feminine, our colourful Elle range is the most extensive selection on the web! With a broad range of styles, including pretty everyday socks, trendy tights, cosy bed socks, sports socks, shoe liners and so many more, we are certain that you will find what you're looking for.

Disclaimer: Elle UK Ltd. can only supply Elle socks and legwear in the UK & EIRE. Therefore any Elle items ordered for delivery outside these countries will not be included - they will be immediately refunded. We apologise for this.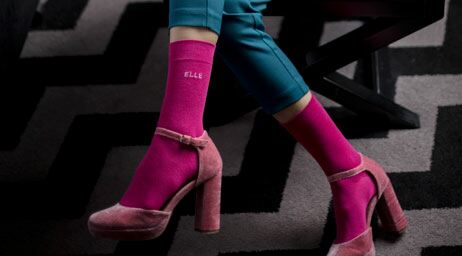 ELLE's founder, William Wileman, set up his very first business in 1919, when the hosiery industry was on the brink of an exciting revolution. Hemlines were rising and with ladies' legs now on show, demand for fashion stockings soared – fuelled by the introduction of new, more affordable synthetic fibres which replaced costly silk.

William was well placed to take advantage of the new trends. He had grown up in the hosiery trade and came from a long line of prominent Leicestershire hosiers. In 1920 he joined forces with Arthur Nicholls to found Nicholls & Wileman Ltd. and relocated to spacious factory premises - The Mpyre Works in Wood Street.

Nicholls & Wileman Ltd. went on to become one of the biggest hosiery manufacturers in Leicestershire, employing over 450 local people. They worked with some of the most advanced machines in the world which were updated regularly as technology, yarns and fashions changed.
They started up Elle Hosiery Ltd. in the early 1960's – around the time that the first mini-skirts appeared.
It was difficult to avoid a glimpse of stocking tops under such a short skirt so tights – or pantyhose as they were known - were the practical solution!
Elle Hosiery Ltd. quickly became synonymous with innovative tights and socks. Not just sheer and plain tights but patterned and brightly coloured designs featuring strong fashion themes such as spots, diamonds and bows. Exclusive designs, luxurious yarns and a focus on quality allowed ELLE to sell and market premium fashion hosiery, as they still do today.
Since 2003 ELLE has been part of the Ruia Group in the UK. Experienced importers and distributers of hosiery and textiles for over half a century, the group licenses and owns other quality brands including SockShop, Pringle of Scotland, Jeff Banks and Belledorm – all known for quality and expertise in their specific fields.
After 50 years, ELLE's key philosophy remains unchanged: luxurious, quality legwear that looks good and feels wonderful against your skin.