PRODUCT INFORMATION
77% Cotton 15% Polyester 7% Nylon 1% Elastane
3 Pair Pack
Hand linked toes for smooth seams
Gentle Grip HoneyComb Top cuffs
Non binding legs to avoid restriction and pressure hotspots; Machine washable at 40°
Thickness: Regular
Approved by the College of Podiatry - this product loves your feet.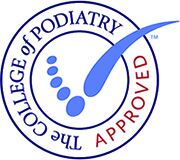 For anyone with diabetes, properly fitting, comfortable socks are more than just a luxury, they're an essential. Specifically designed, these men's Iomi Footnurse Gentle Grip Diabetic Socks are cotton rich, soft and breathable, with contoured legs and non-binding HoneyComb Tops that hold without exerting pressure or inhibiting blood circulation.
By using flatter hand linked toes for smooth seams rather than round machined seams, risks of foot irritation or bacterial infection from friction-damaged skin are minimised, while the cotton blend helps manage moisture and control heat, and prevent fungal infection and foot ulcers. Iomi Footnurse Gentle Grip Diabetic Socks come in a single colour triple pack.